Microsoft windows rpc 135 exploit. Hack windows xp with metasploit
Microsoft windows rpc 135 exploit
Rating: 9,8/10

1615

reviews
Microsoft DCE Manual Local System Remote Access Connection Manager Creates a network connection. Command Description ------- ----------- cat Read the contents of a file to the screen cd Change directory download Download a file or directory edit Edit a file getlwd Print local working directory getwd Print working directory lcd Change local working directory lpwd Print local working directory ls List files mkdir Make directory pwd Print working directory rm Delete the specified file rmdir Remove directory search Search for files upload Upload a file or directory Get native shell If you finally want the command prompt style shell on the victim machine enter 'shell' and hit enter. Port 135 Received 1776 bytes containing the binary buffer overrun. Get network information The 'ipconfig' command will show the network interfaces and their network configuration. They expect to have a more general exploit in the near future.
Next
RPC Service Exploitation in Windows XP
For the demonstration purpose we assume there is no firewall on. The server needs to be patched using a hex editor. Meterpreter has lots of inbuilt scripts that can do lots of other things on the victim machine. Choose to Block the connection as an action to be taken when a connection matches the specified condition. Welcome back, my aspiring hackers! Now type: rpccfg -a 1 or the number you noted before. Type in help and hit enter to see what commands are available.
Next
Bashbunny with Metasploit ms17_010_eternalblue vs. Windows 7 SP1 x64
The best way to protect against attack is installing the patch from Microsoft. Maslan Bekkoame 135 tcp,udp threat W32. Under some configurations the Endpoint Mapper may receive traffic via port 80. From given image, you can observe that we are able to access to ignite folder. To stop the popups you'd need to filter port 135 at the firewall level or stop the messenger service. Because port series from 135 to 139 are most vulnerable therefore administrator can block either whole series or a specific port.
Next
Service Active on Port 135
Now again taking the help of nmap for scanning the target one more time. It is running the microsoft-ds samba service. This module has been tested successfully on Metasploit 4. . Spybot Bekkoame 135 tcp,udp threat W32.
Next
Microsoft Windows RPC Interface Buffer Overflow Vulnerability
Leveraging the Metasploit Framework when automating any task keeps us from having to re-create the wheel as we can use the existing libraries and focus our efforts where it matters. There was a lot more going on with the worms you mentions that Windows 7 and Windows Vista contains some very nice fixes for. For more detailed and personalized help please use our forums. I don't have a convenient way to search the executable paths. Use the following vbs script to disable port 135: This will first start the firewall, then delete the port and then again stop the firewall.
Next
Hacking Windows: MSRPC vulnerabilities
Arnav -- Please forgive me for being obtuse. Symantec has not confirmed this behaviour and it may in fact be due to false positives generated by the scanners. Conclusion: Although port 139 was blocked but still sharing was possible due to the running protocol on port 445. Multiple layers of network access control and intrusion detection should be deployed to limit exposure to potentially vulnerable systems and monitor network traffic for malicious or anomalous activity. Bind shell — Is an incoming connection the perception of the victim machine from malicious remote location and creates a shell. To obtain this tool go to and enter rpccfg into their site search and download it from the link.
Next
NetBIOS and SMB Penetration Testing on Windows
This line should be edited to specify the required protocol and port. Started Manual Local System Remote Desktop Help Session Manager Manages and controls Remote Assistance. Lovgate Bekkoame 135 tcp,udp threat W32. An Information Security Consultant, Social Media and Gadgets Lover. Hence only by sharing a single folder in the network, three ports get opened simultaneously in the target system for communication with another system. Reverse bind shell — Is the opposite, the victim machine establishes a legitimate connection to the malicious remote location and creates a shell of the victim machine.
Next
NetBIOS and SMB Penetration Testing on Windows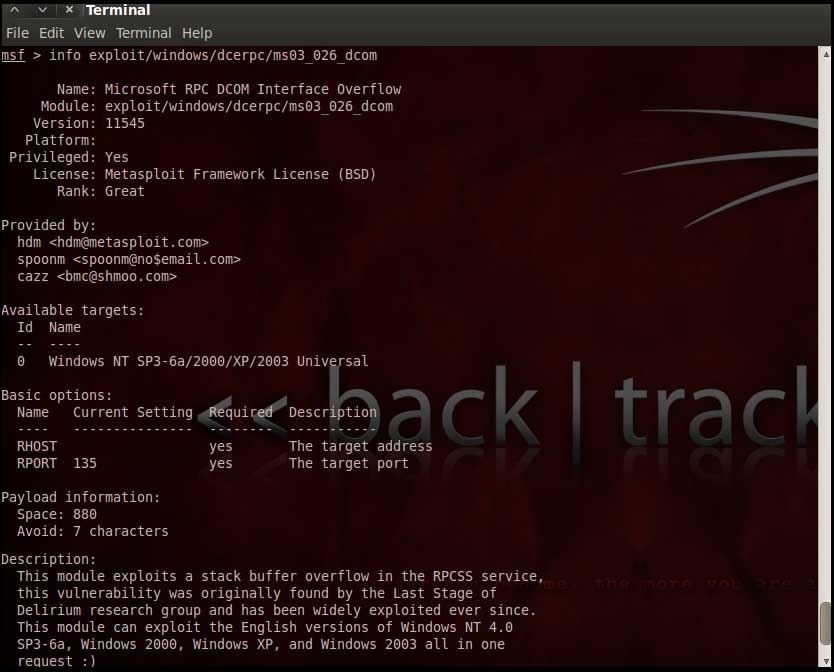 I will be doing a tutorial on this new exploit and vulnerability in the near future, but I wanted to get it out to our community while it's still hot and unpatched. This exploit works on windows xp upto version xp sp3. Finally note Metasploit framework is actually used for building and testing exploits where security researchers do not need to reinvent the wheel to test their discovered exploits, however it is also a great tool for pentesting since it has huge and frequently updated exploit database. You forgot to provide an Email Address. This can be beneficial to other community members reading the thread. A user with an account on the domain can log onto any computer system, without having the account on that computer. The Gruel worm is a mass-mailer that travels attached to a message.
Next
known vulnerabilities
After performing the above re-boot the machine. It is also possible do the same directly by editing the registry. Cissi Bekkoame 135 tcp,udp threat W32. Select the payload Next comes the payload. As you can perceive we are sharing the image of victims control panel home which is showing his system basic information such as computer name, workgroup and etc. Block port 139 Similarly again use firewall inbound rule to block port 139, so that we can verify its impact on sharing information between two or more system.
Next