Cracking windows 10 password kali linux. Hacking WPA/WPA2 Wi
Cracking windows 10 password kali linux
Rating: 7,7/10

598

reviews
Kali Linux Password Cracking Tools
You will be asked to enter the new password so enter the new password for your account. In fact, it is recommended that you do not truncate candidate passwords in your wordlist file since the rest of the characters beyond the length limit of your target hash type are likely still needed and make a difference if you enable word mangling rules. Recently, my girlfriend forgot her Windows 10 password, locking her out of her almost-brand-new laptop. Hi folks, For today post i will show you how to crack and reset password at times when you forget it or when you want to gain access to a computer for which you do not know the password. All the software is installed by default.
Next
Crack Windows Passwords in 5 minutes using Kali linux
Copy these to your desktop directory. John however needs the hash first. You should first ask the owner of the device what kind of Windows password they usually use, in order to get a rough idea of its structure. John the Ripper is a free password cracking software tool. More the passwords to try, more the time required. Reset Forgotten Windows 10 Password and Kali Linux Sometimes most of the people changing the operating system due to the password.
Next
Crack Windows Passwords in 5 minutes using Kali linux
We simply need to target this file to retrieve the password Now you can see the ophcrack application windows. While not strictly necessary, this will make it easier to work with later. Could you explain why this is hapening? Now our word list of passwords is ready and we are going to use this to brute force an ftp server to try to crack its password. Click Browse to locate your Kali Linux image. Most of its user use this operating system as penetration testing. Now this new file shall be cracked by john. This works for both interrupted and running sessions.
Next
How to Crack Window Password with Kali Live Usb « Null Byte :: WonderHowTo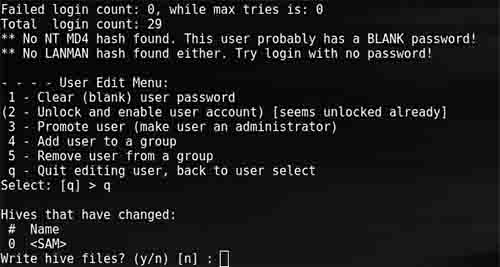 All the same applies to wordlist mode rules as well. On Ubuntu it can be installed from the synaptic package manager. Compared to offline local account, Microsoft online account makes it super easy to reset your password to regain access to your computer. With it,you can fast access to your windows if you without system re-installation. This enables root access for any other commands executed in Terminal. You can then tweak the pattern according to your needs see for more information.
Next
Crack Windows Passwords in 5 minutes using Kali linux
Now it will ask you to selec the table. It is one of the most popular password testing and breaking programs as it combines a number of password crackers into one package, autodetects password hash types, and includes a customizable cracker. We will show you how to reset it. For example, type this command. Windows is hibernated, refused to mount. If you lost a local administrator password, you have to use third-party bootable media. It will show all the users on your computer.
Next
Crack Windows Passwords in 5 minutes using Kali linux
You can just press Alt+Ctrl+T to do this. If you are using Windows 7 or above Type 1 to clear the Password. Today we are going to show you how to reset forgotten windows 10 or Kali Linux Password? That is it now you Know How to Reset Windows Password using Kali Linux. First it will use the passwd and shadow file to create an output file. Password recovery disk have been burned successfully. It is also the most time and cpu consuming technique. Then dump the password hashes.
Next
How to Reset Windows 10 Password With Kali Linux
You can define an external cracking mode for use with John. The t option tells how many parallel threads should create. There are lots of password lists available out there. Finally, you might want to e-mail all users with weak passwords to tell them to change their passwords. This is roughly equivalent in terms of complexity to a password length of 4. Note: If you will not able to open this drive automatic use following command to fix error. If you need an easier and more powerful tool to reset forgotten Windows 10 password, you can try this dedicated password recovery utility -.
Next
Retrieving lost Windows 10 password, using Kali Linux, mimikatz and hashcat
Step 9 — Now Hit the Crack Button,and wait for 3-4 minutes,You will have the key in your hands. It is very fast and flexible, and new modules are easy to add. There is a directory here, this contains a few very large wordlists. In this particular flavor of Kali the root password appears to be randomly generated for the root user. Note: where username is the name of your actual Windows account.
Next