Hack windows 7 with msfconsole. Hack Windows 7 with Metasploit using Kali Linux
Hack windows 7 with msfconsole
Rating: 8,7/10

1474

reviews
Hack4world: Hack Windows Using Metasploit (Back Track 5) Final.
For those of all who don't know, Backtrack is a linux distro especially for security personals, including all the tools required by a pentester. However, i'll try keeping it basic and simple so that it could be understood by everyone here. Before running the exploit command, let say that the attacker now still collecting data using their Wireshark tool like the picture below. After doing it, in the msfconsole command, type exploit After this command it will show you the victim terminal and you can control it. Besides here you need a client that link between.
Next
Hacking Windows 7 using Metasploit in Kali Linux
As such, brute force attacks are pretty much too risky. So Open your terminal and type this command, root bt:~ msfconsole. It is used for troubleshooting, analysis, software and development, and education. You should be at this point now: So now the setup phase is done - we've created our payload, figured out a way to get the file onto the victim's computer and now we are ready for the actual exploit to take place. Now, you have to put and run it on the victim's computer. The topic Metasploit is very vast in itself.
Next
Windows 7 Sticky Key Hack Attack using Metasploit
If you want to do penetration testing, go to the Metasploit website and join the community, ask the pen testers and learn from them. Now Finally we will start to exploit. Students are Wasting There Time on Fake Tutorials Which are Never Going to Give Them a Solution to Perform Hack. Some of the tools included are Timestomp, Slacker, Sam Juicer, Transmogrify. They make money by sharing their tools.
Next
Hack Windows PC Using Kali Linux: 7 Steps
In this tutorial, i'll be teaching you how to exploit a system using a meterpreter payload and start a keylogger on the victim's machine. Metasploit was a project started in 2003. Before Hacking, you want to know about metasploit framework. Now you can collect any information you want. Show encoders The show encoders command will return the compatible encoders. Moore in 2003 as a portable network tool using Perl.
Next
Code Poisoner: Hack Windows 7 with Metasploit using Kali Linux
Misuse of the information you found on this site can lead you to crime. At the first, it was written in Perl language but in 2007 it was completely overwritten by Ruby language. Show Payloads When we use the show payloads command the msfconsole will return a list of compatible payloads for this exploit. These are the basic Metasploit Commands! To view the available options for this exploit, just run show options command from your msf console. In our flash player exploit example it will return quite a few compatible payloads: Show targets The show targets command will return a list of operating systems which are vulnerable to the selected exploit. After that, you should be able to see a file named as backdoor. Install 3rd party firewall and antivirus that always updated.
Next
Hacking: Exploits and Vulnerabilities: Exploiting Windows 7 with Metasploit/BackTrack 5
If all goes well, you should be able to establish a meterpreter session. So the next time when we invoke the sticky keys, instead of getting the sticky keys prompt we will get an Administrator Command Prompt. We are not responsible for any kind of damages. According to wikipedia, Wireshark is : a. Use the following commands to control the system. At this point you're going to use the command. For a step by step, here is a great tutorial: Hope I helped! Use or encryption to protect your data.
Next
How to Hack Windows XP With Metasploit [Tutorial]
If you don't specify its path it will be saved at Home. Windows automatically updates its Internet Denier. This Documentation is purely for educational purpose. As we know that when you're running Wireshark and collecting data it should not in a short time range 1 or 2 minutes , but when you run this tool you will need to collect as much data as possible. Now if you type the command exploit and press enter, Metasploit will launch the payload handler. It would be a waste of time explaining all these commands. It's easier to run command by looking the file itself and open the directory of the file.
Next
HACKING WINDOWS 7 USING METASPLOIT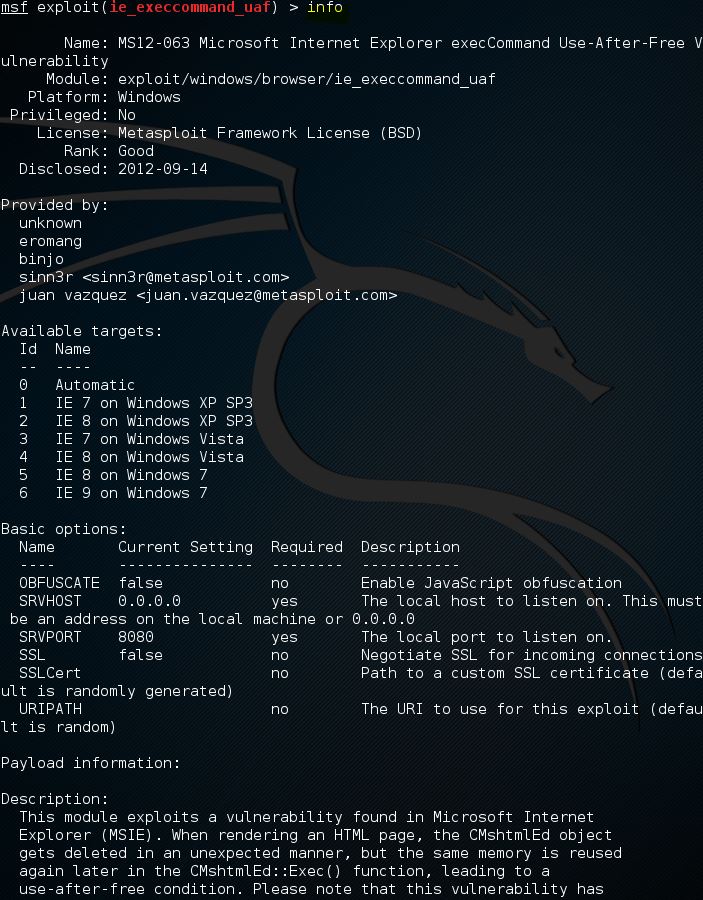 Step 3: Now the full control is in your hand. In this tutorial let's say it was operation payback because attacker trying to collecting our data and we will pwned their computer…fair isn't it? On October 21, 2009, the Metasploit Project announced that it had been acquired by Rapid7, a security company that provides unified vulnerability management solutions. Achieve Meterpreter on Remote System Open Kali Linux terminal and type msfconsole in order to load Metasploit framework. Or by just typing it in Terminal. It does not create the url like yours does and also does not state the the Server Started like yours does. In a similar way, it is shown in the given image. I disabled the avg for a second than exited out any running browser and ran the exploit on kali from a seperate computer and i got that error … what does it mean? This avenue can be seen with the integration of the lorcon wireless 802.
Next