Sethc exe hack in windows 7. Hack into Windows OS (UtilMan.exe) :: Easy2Boot
Sethc exe hack in windows 7
Rating: 6,3/10

584

reviews
windows 7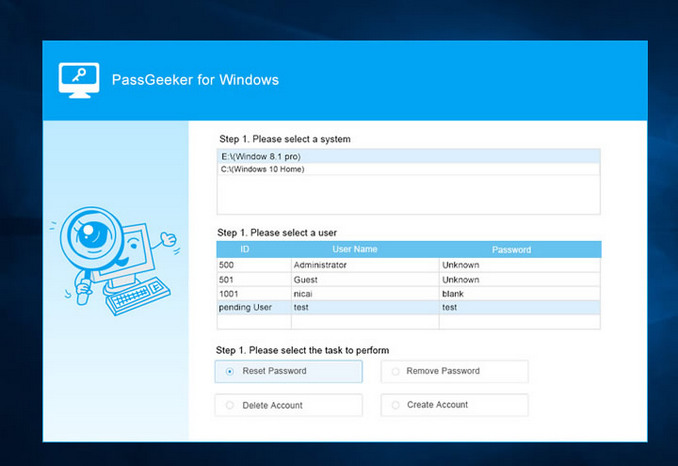 Restart and boot to Windows, then click shift 5x or more. When you leave your computer unattended, anyone who can gain physical access to your computer can replace utilman. Here a method is explained for a standard user or non-user at all to gain administrative access. Much easier to remember to do than a registry key. The methods outlined in this article will not apply.
Next
Sticky Keys Exploit
If you want to change or reset the password for another account, click the second item highlighted in the screenshot, Manage another account. It almost makes you want to switch to Mac or Linux. I got access to my account and I, as an administrator, deleted both passwords. . To remove or uninstall the backdoor, simply delete the registry value that you have added or paste the command below to an elevated command prompt followed by pressing the Y key to confirm the deletion. Well we never use safe mode or setup repair. Adding the provided registry will tell Windows that you want to run cmd.
Next
Windows 7 Sticky Key Hack Attack using Metasploit
I believe one way of gaining access to perform this 'hack' is by entering setup repair. When prompted, press any key to boot from the disk. You can then restart your computer and be on your way. Just Guess Your Password It seems ridiculous to guess your password when you forgot it. Custom payloads and doubles can be kept running as a component of this endeavor, however, should be physically transferred to the objective before running the module. Exit the Command Prompt, and log in using your new password.
Next
How to crack windows passwords in 5 minutes
Here is an interesting method which I recently discovered that allows you to plant a backdoor to your Windows 7 operating system so that you can always reset or even add a new user account without even first logging in to Windows. Is there a way to prevent anybody from breaking your Windows password with? Once there, click the User Accounts link. Check out these step-by-step instructions: 1. Luckily my technician caught him doing it on monitoring software. However, if you don't have a password reset disk and you need to reset your password, I outlined some ways that are easy enough for anyone to try to reset Windows 7 password without disk. Once in the Control Panel, set the View by drop-down to Category View in the upper right as highlighted in this screenshot.
Next
Windows 7 Sticky Key Hack Attack using Metasploit
Find the drive letter of the partition where Windows is installed. Once it is finished, save your files and restart your computer. The goal is how to unleash command prompt at startup. Sethc Windows Exploit - 4 years ago - Here is how to become administrator without a password. Type net user username password, replacing username with your username and password with a new password. Dell bios will let you remove items from the boot sequence, in other words hard drive or nothing.
Next
Prevent Anybody from Resetting Windows Password with Utilman.exe / Sethc.exe Hack
Short Bytes: There are times when you forget your Windows password. You might want to write down the later steps so you can see them when ophcrack starts. I recommend that you replace sethc. Used this backdoor multiple times before. Not that the boss is trying to peep into some ex employees personal computer. Forgot Windows 10 user password? The procedure for this varies from motherboard to motherboard.
Next
AccountNname and sethc.exe Application
More on the Sticky keys method at. Note: To boot to the Windows Recovery wim file, a Windows 8. Duplicate it and rename it sethc. Turn to easier and securer solution --. E2B will warn you if it is missing. Caution: Resetting Windows 7 password using the Sticky Keys trick means you will lose access to encrypted files, encrypted email messages, and stored passwords for Internet Explorer and network resources. This is replacing sticky keys with command prompt.
Next
How to Hack Windows 7 Password With simple steps
So I want to prevent his ways of doing this using system32 folder and cmd. The Command Prompt will pop up. From the Command Prompt, you have sufficient privileges to reset a lost password without knowing your current password. The repair disk options may differ for other Windows versions. The module adjusts the Debug library setting for certain executables. For instance, it is C in my case.
Next