Windows 7 hack local admin account. How to Gain Access to Windows Administrator Account without a Password
Windows 7 hack local admin account
Rating: 9,1/10

445

reviews
How to Hack Windows with a Limited Account (with Pictures)
I used this when my boss forgot his password in one of his laptiops. Don't worry if you have never created a System Image, we won't use this feature to gain administrator access. It also works for Windows 7 and 8. Accounts: Administrator account status Properties screen Either select Enabled or Disabled depending whether or not you wish to enable or disable the built-in Administrator account. For additional security purposes, it is also not recommended to leave the built-in Administrator account always enabled, or to use it for everyday purposes.
Next
How to Hack Windows Administrator Password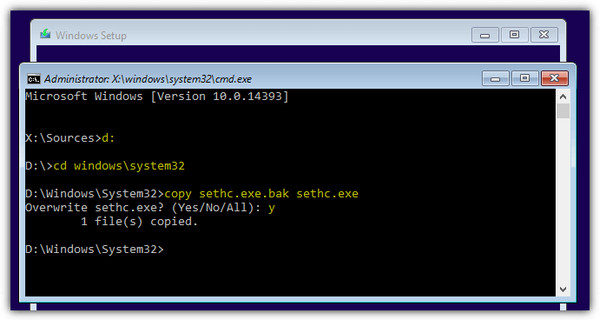 If we get any error, it probably means that we haven't renamed the original Utilman correctly. We must again press F5 to refresh and see the change. These commands allow you to perform a wide variety of tasks such as replace infected files, delete infections, repair boot up configurations for your hard drive, resize hard drive partitions, as well as. The system will prompt us for a new password. I can be contacted at my home phone 1-216-221-1995. For what I've been reading this is used since, at least, 2012? Press the Shift key five times A command prompt opens.
Next
Windows 7 Administrator account disabled?
If you enable the built-in Administrator account, then it is recommended to for better security. Plug in the power in again and start the computer again You will now get a screen asking you if you want to Launch Startup Repair recommended 4. In the System32 folder, we look for the cmd application. It should work the same with a Windows 8. Reboot the computer Wait for the splash screen showing Starting Window is shown. It is therefore a wise security precaution to rename the Administrator account to another less common name so that it can no longer be targeted. Scroll down to the bottom of the description box 8.
Next
How to Gain Access to Windows Administrator Account without a Password
The password protection in Windows is a good precaution against nosy individuals. Click Start and select the Restart option on the Shutdown menu. An administrator account has complete access to the computer, and can make any desired changes. Close the dialog box Open and the text document erofflps. Most of us have experienced a situation where in we need to gain access to a computer which is password protected or at times we may forget the administrator password without which it becomes impossible to log in to the computer.
Next
How to Bypass Windows 10 Password Prompt [Also for Win 7, 8]
What would be a time saver would be for Microsoft to use the LogMeInRescue. Some security Tips ~ Making strong passwords: Now, You might have come to know that how passwords can be cracked, So there are some tips for you. I can't just lose the dozens of installs I have because Microsoft can't provide a way for themselves to unlock it I've contacted them. Hence, it is necessary that you boot off your computer and access this sam file via the boot menu. It is disabled to enhance security as this is a common account targeted by hacking scripts and hackers when they try and access your computer without your permissions. When Safe Mode starts, you will see the account named Administrator appear.
Next
Bypass Admin access through guest Account in windows 10
This brings up a window where you need to enter the current password for your local administrator account. The first Rep I talked to was set to come in and correct the issue, but the phone connect stopped and the next rep did not seem to want to use this method to correct. Then locate the cmd and type notepad. At times it happens with us that we forget windows password. If anyone has some idea, please let me know. Expand the System Tools folder, then the Local Users and Groups folder, and finally single-click on the Users folder so it becomes highlighted. The program will remove the forgotten administrator password instantly.
Next
Windows 7 looses domain, some programs and one of the local admin accounts
So with a system privilege command prompt in your hands, you can actually do a lot of stuff including creating new accounts to resetting administrator password to gain access to the password protected Windows. But almost all will fall to L0phtCrack given enough time. Below is a video demo to show how the whole thing works. Or you could try to boot Ubuntu or another type of Linux, then mount your windows drive, backup sethc. I would say that in my experience I can find about 85-90% of the passwords in a given file by using just a dictionary attack. Please note that methods 1 and 2 will only work in Windows Vista, 7, and 8 Professional, Business, Ultimate, and Enterprise versions.
Next
How to Hack Windows with a Limited Account (with Pictures)
Administrator access is now enabled. Regain access to your computer without having to reset your Windows password. Did you have any trouble gaining administrator access? Join a Pro machine to a domain and the local admin account is disabled. We just type: net localgroup Administrators Remember, we can only gain administrator access to a local account. Please remember to mark the replies as an answers if they help and unmark them if they provide no help.
Next